The Domfront perry
A unique pear orchard trees in Europe
The area of ​​the Domfront Perry's appellation extends over forty communes located at the crossroads of three French departments: south-west of the Orne, south-east of the Manche and north of Mayenne.
On the edge of the Armorican Massif, the Domfrontais offers a deep soil with an oceanic climate favorable to the development of pear trees. Even today, this region is characterized by the presence of a high-stem pear trees orchard unique in Europe with more than 100,000 trees.
From pear to perry
This is the best known variety of pear tree and its fruit, collected separately from the other varieties, goes into Poiré Domfront to the tune of 40%. Some thirty varieties have been counted in the area, but only about ten of them are regularly used for making perry.
The harvest is done from October to November, either by hand or machine, but always on the grass after the fruit has fallen naturally.
Thirty varieties of perry pears are selected to elaborate the Domfront perry. Small in size, often tasteless, they are called Rouge Vigné, Gros Blot, Plant Roux, De Cloche, Gaubert... and each represent at most 25% of the cuvée.
The flagship variety of the appellation is the pear called "Plant de Blanc". Juicy and acidulous, it enters at least 40% in the Domfront perry composition and is stored separately from other varieties.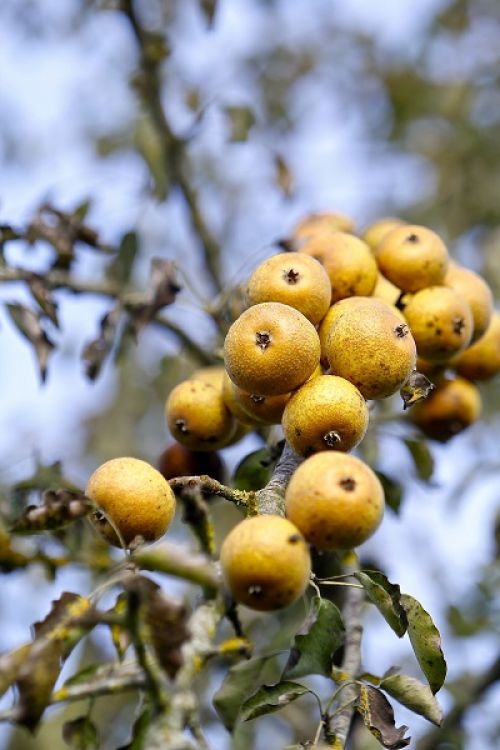 The pears are grated within 72 hours of harvesting and the pulp obtained is vatted for a while before being pressed. The must is obtained after pressing for a maximum yield limited to 700 litres per metric ton of fruit. The first alcoholic fermentation in the vat lasts at least 6 weeks, during which time the cellarman keeps a close eye on the quality of the juices prior to bottling.
Domfront Perry produces its own foam in the bottle by fermenting part of the residual sugars, a process that takes at least six weeks.
After foaming, Domfront perries have an ABV superior or equivalent to 3%.
The tasting
Poiré Domfront is naturally sparkling and is characterized by a golden yellow colour, with a fruity taste and a slight astringency that makes it a refreshing tipple.
As a slightly alcoholic beverage (about 4% vol.), it is served well chilled as an aperitif and is an elegant accompaniment for festive occasions and with meals.
Served at table, Domfront Perry brings out the flavour of all kinds of meat including pork, veal, rabbit and poultry. It also heightens the delicacy of the blander tasting kinds of fish. Poiré Domfront goes wonderfully with light and fruit desserts such as a strawberry soup with a spot of mint on top or a chocolate sweet.
An excellent base for both savoury and sweet dishes, it is an ingredient for some original sauces and goes perfectly in a fish or meat stock, cream and shallots. As regards desserts, it is used to poach fruit and its scent to flavour toffee, along with a dash of cream.