The Cotentin Cider
With the sea at heart
The Cotentin appellation area carries its orchard on the northern half of the Manche department in the heart of the hedgerow, on plots with deep soils for the maintenance of trees and protected from the wind by natural hedges. The Cotentin bathes indeed in a very oceanic climate, windy, accentuated by the peninsular character of the territory. This climate is characterized by frequent and fairly abundant rainfall, a low temperature range with rare frosts, and frequent, sometimes violent winds, mostly from the west.
From apple to cider
The low and high-stem orchards are fully grassed. This grassy carpet optimizes the quality of crops by cushioning the fall of apples and ensuring their good conservation on the ground. The harvest of apples runs from September to the end of November on the ground and at optimal maturity.
The 28 varieties of apples selected for the appellation are complementary and their combination brings complexity and typicity of taste. These local varieties are mostly "bitter" and "bittersweet" (« petit amer », « taureau », « belle-fille de la Manche », « tête de brebis », etc.), and make up at least 70% of the Cotentin cider. They are supplemented with "sweet" varieties (Clos Renaux, Doux Lozon) as well as « acidulous » apples (Petit Jaune, Grasselande, Gros jaune).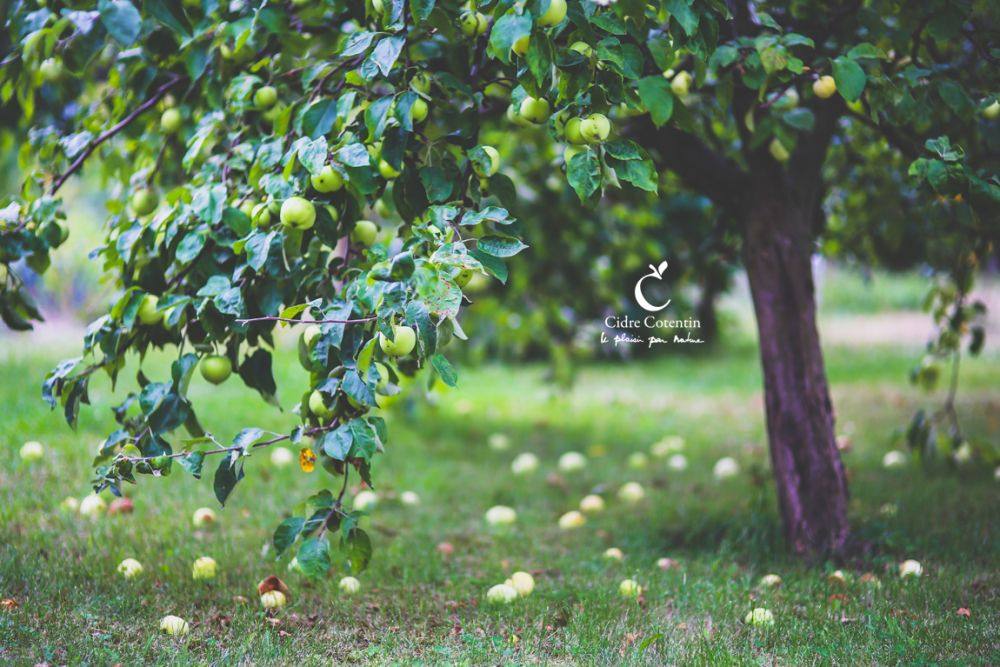 Apples are pressed slowly to capture the maximum of flavors. On the surface of the must, a brown hat is formed which traps nitrogen and impurities. The cider gradually clears. Then begins the fermentation of a minimum duration of 6 weeks, under the exclusive action of indigenous yeasts. Regular racking eliminates lees and yeasts, and promotes slow fermentation, a decisive factor in the complex aromatic development. The ciders are then bottled for a minimum of 8 weeks to obtain a natural foam.
The Cotentin cider is the first French appellation, wines and ciders combined, to include the mention "extra-brut" in its specifications. Drier and more tannic, these ciders have a maximum of 18 grammes of residual sugar and an ABV of over 5.0%. However, Cotentin ciders with the mention « brut » show a level of residual sugar comprised between 18 and 35 g / liter, and an ABV of 3.5%.
The tasting
The Cotentin cider stands out by its color which is between the straw yellow and the orange yellow with a fine effervescence. It offers subtle aromas with notes of butter and dried herbs. On the palate, its discreet acidity gives a nice balance and it also offers a bitterness of a great freshness, even sharper with the extra-brut.
A « brut » or « extra-brut » Cotentin cider can be tasted as an aperitif, as well as the perfect match with many local dishes. For instance, an « extra-brut » can be associated with Normandy oysters, lobsters and shellfish. A « brut » can accompany mussels from the Bay of Mont-Saint-Michel, a pre-salted lamb or poultry, fish with cream or charcuterie. Not to mention the pancakes and all the crepes !